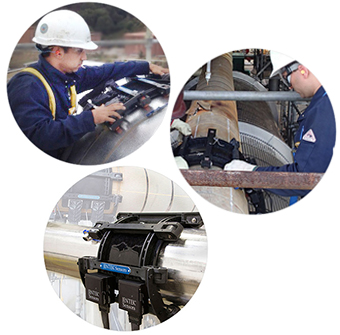 Targeted Services Delivering JENTEK Solutions
JENTEK offers full service and support for all products and application development processes. We hire, train, and maintain the best qualified people in the industry.
While not limited to this list, JENTEK can provide services in the following areas:
Oil & Gas, Petrochemical Services
Piping & Vessel Internal and External Corrosion Imaging through insulation and fireproofing (CUI and CUF)
In-ditch Pipeline Services
SCC Mapping with and without coatings
SCC Crack depth measurement
Mechanical Damage Mapping
Internal & External corrosion mapping with and without coatings
Permeability mapping
Other Pending Capabilities
In-line Inspection tools (tethered and untethered) are under development for internal corrosion, internally initiated cracks and stress mapping.
Tube inspection for carbon and non-ferrous tubes (heat exchanger, heater, etc..)
Subsea tools (deep and shallow water) are under development for internal and external corrosion mapping from the outside surface of pipelines, risers, etc..
Down hole tools for corrosion and other conditions are in early stages of development.
Tech Support Services
Phone, On-line Webinar, remote access and On-site based technical supportis available to assist in software & equipment upgrades and trouble shooting inspection related problems.
Technical support is available as "Pay as Needed" or through an annual support contract.
Training & Engineering Science for NDT Courses
NDT Method courses. (Level 1 and 2, equipment specific and specialty courses available)
Engineering Science (for degreed engineers/scientists)
Data Analysis Services
GridStation Data Analysis
Advanced Data Analysis (Advanced filter development, confidence interval computation, Performance studies (POD), procedure refinement support, etc.)
Contract Research & Development
JENTEK Proprietary adaptations
General Purpose Engineering-Science
NDT Procedure and technique Consulting
Custom Automation design, fabrication and integration